Today, Feathered Quill reviewer Katie Specht is talking with Patrick Scott, author of Unburied: The Loci of Power Series, Cycle I.
FQ: What was the inspiration behind the story of Unburied?
SCOTT: As I prepared my debut novel Big Beasts for release, I felt a strong urge to explore a new character and world. I began with a modified version of the scene which opened the book and got hooked by wanting to know more about everything. From there, the story blossomed into the strange and mysterious world it became.
FQ: Can you share a bit about your professional background and how you began authoring books?
SCOTT: My path to storytelling is familiar. I was one of those kids lost in my head and telling myself stories. I started writing longer and longer things in college. After a particularly short story I let my roommate read, I heard something I hear quite a bit when working in smaller chunks. "I want to know more," my roommate said. I wrote my first novel and never looked back.
I've been working on my craft since then. I've won some small contests and placed some short stories. But mostly, I ended up playing in bigger worlds. While content to create, I fortunately submitted what I thought would be a standalone novel, Big Beasts, to Atmosphere Press who saw something in my work which spoke to them and their readers.
After the first novel came out, I approached them again with two things, a sequel to Big Beasts and the opening to the new series which Unburied begins. We agreed it would be fun to put out something new and different to connect with a different audience
FQ: What was the writing experience like for you as you wrote this story?
SCOTT: I marveled at how big everything grew. It all started with something simple. The longer I stayed in the world the deeper I realized things went. I joke all the time that it's so hard for me to pick the good days of writing from the bad days because in the end it's a bit like running a marathon. You're done and you've accomplished something and all the moment-to-moment things fade into the background. I guess that's what made me decide to tackle everything that I've set myself up for.
FQ: How did you develop the main character of Faye? Is she based on anyone you personally know?
SCOTT: I'll answer the second question first. Faye is not a single person. All characters, from Faye to her roommates and Moira, are everyone that I've ever met and no one that I've ever had the pleasure of meeting. Faye's key talents, personality and outlook came from the very first time I wrote her. Granted, she changed over the course of the process as I discovered how deeply she had been harmed and the things she did to protect herself. But Faye was Faye from the start. Seeing her solidity in the first draft and how she interacts with the world is so rewarding as a writer.
FQ: When you began working on this series, did you have the entire story developed in your mind or has it come to you gradually as you have been writing it?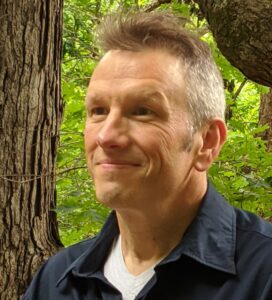 SCOTT: About halfway through Unburied, I figured out some key things about the story. That's when everything opened up to me including how deep the rabbit hole went. When that happened, I got both excited and a little scared because I knew that Faye's story was just the opening, like the first few notes as the orchestra plays the prelude. At that point, my multiple notebooks and files came into play capturing as much as I could.
FQ: The name of the series, Loci of Power, is rather unique. Can you share a bit about how you developed the title and the meaning behind it?
SCOTT: As with so much that happens, the series title came from so many different things landing at the same time and melding into something which struck me in a particular way. First, there's a psychological concept referred to as the Locus of Control and this impacts our interaction with the world and how we move through it. In developing the characters and magic for the series, I realized control might not be the only thing which has a locus in someone. In short, the magic is seated in individuals, manifests uniquely and is necessary for their lives, in the present and going forward. Thus, the Loci of Power was born.
FQ: Are there any lessons you are hoping to impart to your readers with this book and/or the entire Loci of Power Series?
SCOTT: Lessons might be too lofty a term. In the first book, I did want to address something we all face. Unburied looks at how people have things they pretend have no impact on them or their lives. These events can be positive and negative, but more often than not it's trauma we seek to keep buried. I hope the book will demonstrate how keeping things covered rarely brings about the health and healing we truly need.
As far as the series, I'm not sure we're to the point where I can address overall themes. I mostly hope, as with the first book, to tell an exciting and layered story about individuals who are fighting through and making sense of things. We'll see where we end up in the last book.
FQ: Can you share a bit about the development of the integral character of Moira, Faye's mentor?
SCOTT: When I started writing Moira, I liked that she seemed full of knowledge, wisdom and a life of her own outside of how she interacted with Faye. I sought to make her a mentor, but one with flaws and secrets. Too often in our tales, we accept the wise figure almost without question. I wanted the readers to like Moira and understand her place in Faye's life while going "there's something different about her" at the same time. I hope I struck that balance because she's a rich and amazing character to write.
FQ: What is the relevance of the subtitle Cycle 1 and how did you develop it?
SCOTT: Realizing the scope of the series, I understood things would be easier for readers and myself if I were to break the series up into cycles. The plan lies in making sure that each cycle carries us to the satisfying conclusion of an arc. From there, we'll enter the wider world where greater things will be asked of our cast of characters in each successive cycle.
FQ: Would you share with our readers a bit about what they can expect in future books in the series?
SCOTT: While avoiding any major spoilers, I will say I've drafted the next novel and have begun my first round of edits. Faye's in the sequel and plays a key role. However, the sequel is not her story. I created Cycle 1 to have four novels about each of the roommates – Faye, Cho, Ari and Nena. Their tales, while building on one another, will give readers a glimpse of how things like family, life and magic are uniquely expressed and lead toward a much larger threat.