Today, Feathered Quill reviewer Diane Lunsford is talking with Stephen Winn, author of Don't Look Back: A Mack & M Mystery.
FQ: What a fun "Sam Spade" sort of read this was! Thank you for your time today to discuss your book. I was immediately captivated in learning that a portion of the proceeds from sales of this novel will go to a registered charity for the disabled. Can you elaborate on your choice(s) of charitable foundation(s) and what drew you to them?
WINN: I have always donated to various charities for the disabled, especially cerebral palsy, because I have a quadriplegic eldest son Colin who was badly damaged at birth. One of the many registered charities I plan to donate a share of my writing profits to is Bethesda in Ontario, Canada. Bethesda provides a home for those who are severely disabled and need special care that can't be provided in a normal residential setting. It helps those badly injured individuals who have nowhere else to turn.
FQ: Continuing with another question about your bio, that's a great photo of you and your beautiful dog. How close is his real-life character to the fictional character 'Woof' in Don't Look Back?
WINN: The dog with me is named Harley. He is a service dog that belongs to my grandson who is autistic. Harley is amazingly intuitive about the needs of my grandson (as Woof is to Mack Sampson) and shares much affection with our entire family. A lot of the behavior of Woof in my novels, including the running, is a reflection of actual behavior by Harley who loves to go out for a good run or a swim.
FQ: There is a nuance of money being the root to all evil that plays throughout this novel. This is an age-old adage and I'm wondering if you could share your philosophy on how the notion can be turned around.
WINN: We all know money is important to survive. John Wayne once said, "Money cannot buy happiness but it's more comfortable to cry in a Mercedes than on a bicycle." Having money can spoil people and often change them for the worst, but it can also bring out the best in some who are intent on helping others to succeed and prosper so they can, in turn, carry on with the giving.
FQ: I loved the quirky name of the company, Royal Ransom, of PI Mackenzie Sampson's latest client. How did you arrive at this name? Did it simply come to you or was there an intentional meaning behind it?
WINN: I had to work at coming up with it. I invented several names and then chose the one that I felt I could work with the best. I actually lived in the story as one of the characters when I developed this part of it.
FQ: Right from the onset of this novel, there is instant drama given character Mackenzie Sampson loses his job as a detective given his more than a dalliance with alcohol and prescription drugs. Why do you suppose (without painting a stereotypical label) certain professions lend way to problems with drugs and alcohol more so than others?
WINN: Good question. It has to do with the pressure of the many responsibilities one faces as they perform the duties necessary to be the best that they can be. They strive to satisfy the drive within them to succeed with care and honor, but sometimes fail to handle the nervous trauma that accompanies tough repeated challenges. An electrician wiring a new home doesn't face the same repeated issues as a police officer called in to settle disputes between angry men, for example.
FQ: I've often heard the key to a successful thriller, mystery, detective novel, is to deliver the body within the first handful of pages. Without too much of a spoiler, you checked this box admirably. When you craft a novel, do you outline the premise first or are you simply compelled to sit down and start writing and the story will tell you how it will play out?
WINN: There are authors – James Patterson is the best known – who work to an outline, and others such as Robert B. Parker (a hero of mine) who didn't. I am one who doesn't work to an outline because for me the creative process is a trip through the unknown that I relish with delight. I let the story give me wings and I let it carry me away to places unknown. I cherish the experience of sitting down, then starting to dream while setting down a paragraph at a time and constantly going back to review what I've done. You have to review a lot to be a good writer.
FQ: You are quite familiar with Boston and its many 'haunts.' I'm curious if you lived there and if so, how long?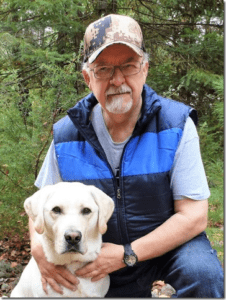 WINN: I never lived in Boston, but visited a couple of times and took time to walk many streets and visit many shops and eateries while trying to get a feel for the place. I was struck by the history of such an important city, and felt like I was at home after just a couple of days. It's an incredibly welcoming place that I would love to visit again, and it was an easy decision to base my first series of novels there.
FQ: In line with my previous question, if you had to pick one, what would be your favorite place to go in Boston and why there?
WINN: I have a great affection for water. I currently live adjacent to the Welland Canal that runs between Lake Ontario and Lake Erie, and often walk or cycle along it. I'm only twenty minutes from Niagara Falls, and have a cottage property on water at the base of the Ottawa Valley. So...the Charles River and the Boston Harbor were huge magnets for me.
FQ: Who doesn't like a good read that is "mobbed up"? I enjoyed the cheeky flair you assigned to these characters in your story. What's one of your all-time favorite mob stories and why?
WINN: I have always been fascinated by the Mafia and its huge cast of nasty characters. It would be hard for me to pick a favorite mob story, but if I had to pick a character about which many stories were written and movies made, it would be big bad 'Scarface' Al Capone. His reign lasted seven years as the head of the Chicago Outfit and then he went to prison for many counts of tax evasion at the ripe age of only thirty-three. His behavior – all of the twists and turns throughout Prohibition - fascinated me.
FQ: The relationship that Mackenzie and Woof have is heartwarming. Every time you wrote an exchange between "man and dog," it made me think of times I've had with our dog. One that resonated with me was Mackenzie's reasoning with Woof why he drinks: "...See, I drink beer when I'm happy, but also when I'm sad. I drink beer when I'm alone and when I'm with friends. Sometimes I drink beer when I'm hungry...and yes, even when I'm not. Other than those times, I have no desire for beer at all...unless I'm thirsty—like right now..." Sounds perfectly reasonable to me and this flows so well. I'm thinking this is one of those times when the passage wrote itself for you. How often does this happen for you?
WINN: It happens very often because I became Mack Sampson in the story. I'm there with Woof as I have been so many times with my own animals. Harley, for example, is so smart I could swear he could talk if only his vocal cords would behave. I know dogs understand far more than we give them credit for, just like a little child who can't form the words that they want to say.
FQ: I thoroughly enjoyed reading Don't Look Back. Can you tell us when the next in this series is due to release? Are you working on it now and if so, are you able to give us a little taste of what to expect?
WINN: You're going to think I'm crazy, but I wrote several novels in my series before deciding to publish the first. So, now I have six completed and am working on a seventh. The second to be released is titled Never Laugh at the Devil. If you visit my website, you can have a look at brief sketches of Never Laugh at the Devil and some others to follow. I plan to send my second novel to Atmosphere Press and begin the road to publication sometime early in 2023. Perhaps this will all lead to a top literary agent deciding to represent me. We'll see...