Today, Feathered Quill reviewer Diane Lunsford is talking with Linda Gould, the author of Sycophants.

FQ: Thanks very much for such an enjoyable read. I'm always curious what triggers the author's imagination to spin his/her tale. Your credentials portray you as a political science major. Were any of your experiences used to develop Sara's and/or Imogene's characters? If so, which one (or a little of both)?
GOULD: I studied for a masters degree in political science at American University in Washington, DC from 1977-1981. That was a turbulent time in American politics, not that I can actually remember a tranquil period! All of my novels seem to have political elements, and a couple of them include the President as a real, although distant character.
In Sycophants, Sara is moved by the political climate in the early 1990s to make an anti-war film. During the film-making process, she and Imogene get caught up in a conflict between two prominent ministers on opposite sides of the political spectrum.
FQ: It says you are retired from the bureaucracy of D.C. Do you miss the day-to-day rush of working in the Nation's capital? If so, what do you miss most?
GOULD: What I miss most are the early days of my career at the Department of Labor, when I was considered "young and promising" and was involved in things that excited me, such as preparing budgets, attending Congressional hearings, and giving presentations. Unfortunately, in the Federal government age discrimination is a real, although unacknowledged phenomenon. I've compared notes with other employees who also found their stock going down as their hair went gray, so I know it wasn't just my imagination.
Do I miss it now? Not at all! I wake up every morning to Federal News Radio, a program that discusses problems and issues at the various agencies. The problems are only getting worse in the current toxic political climate. As I roll over for an extra snooze, I thank goodness I don't have to deal with any of that anymore.
FQ: Is there an experience that resonates with you and if so, are you able to share?

GOULD: Toward the end of my government career, I had a supervisor who seemed nice on the surface, but who systematically excluded me from many projects I had been involved in previously. He had hired (with higher management's approval) two much younger budget analysts at higher grades, and tried to befriend them by showering them with all kinds of perks. Although I was often angry and humiliated, especially when I found myself covering for their junkets and various "retreats," I was too close to retirement to do much about it. I took the easy way out by mostly ignoring the situation rather than fighting it, and retiring as soon as I felt comfortable with my pension. I knew they would miss me more than they realized, once they were stuck with all the grunt work I'd been doing!
I got my "revenge" by using that supervisor as inspiration for one of Imogene's superiors at the production company. Like me, Imogene feels ignored and excluded by "Gus" and his harem. She's the one who has to endure their closed-door meetings and cover for their endless, dubious trips. Eventually, she gains enough of a foothold in the company so that their attitude toward her no longer matters.
FQ: I enjoyed the pace of your story. It seemed there were many layers and dimensions to each of your characters. Were there times when you lost track of who was doing what?
GOULD: Oh, my, yes! It took many years to write Sycophants, and I lost the thread of the narrative several  times. I set out to write a sequel to The Rock Star's Homecoming (2007), which dealt with roommates Imogene and Sara, and their rather superior third roommate Emily, as seniors at college. The new story got more and more complex, and I had to start over a few times just to get the thing untangled. It was particularly difficult to figure out what to do with Emily. It wasn't enough for her to represent "snootiness" as she did at college. In the adult story, she had to get involved in the film-making process, and suffer marital issues like Sara and Imogene.
FQ: As a writer myself, I'm always curious to learn from a fellow author what his or her methodology is during the writing process. Do you outline your story first? Do you simply dive in and let the story write itself? Does it differ with each story?
GOULD: I usually start out trying to make an outline, but it turns out so vague and general that it's practically useless. Instead of outlining, I end up merely jotting down some notes about what I hope to accomplish and points I want to make. It seems the details of the story never come to me in any meaningful way until I'm actually writing it.
FQ: I enjoyed your development of both Sara and Imogene. They were opposites in many respects, yet they worked well together. How much of Sara's and/or Imogene's character reflects a little bit of you?
GOULD: Imogene is much like me, conscientious and well-meaning but sometimes bumbling when it comes to new situations and challenges. Her marital issues also reflect much of what I went through myself. Sara, on the other hand, evolved from an imaginary friend I've had most of my life, who possesses all the qualities I'd like to have. She's a composite of strong women whom I have known and admired.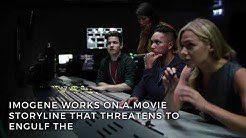 FQ: Are there any real-life experiences you had during your college days that mirror either Sara's or Imogene's character?
GOULD: As an extreme introvert, I was always looking for stronger personalities to lead the way. One of my best friends was the editor of the college newspaper. Her reporting created a ruckus or two on campus. Most of my other friends were training to be English teachers, which also required a more outgoing personality than I had. After college, I started my career as a secretary in quasi-government, so I didn't exactly come out of college with a bang.
FQ: Imogene is the personification of the 'struggling artist' on a quest to get discovered by penning an award-winning film script. I've never dabbled in the adventure of screenplay writing. Have you ever? If so, did it ever go anywhere? If not, do you aspire to write a screen play?
GOULD: There's just something about seeing real-live people act out your stories! That's why all of my novels have book trailers. In addition to that, I utilized a screenwriting service for all four of my iUniverse-published novels. The screenwriters who worked on my stories were advertised as professionals in the business, and I think they all did a creditable job of converting them to  cinematic products. The scripts are posted on sites like InkTip and SimplyScripts, and get a lot of reads, although no producers yet.
Since short scripts are often easier to get produced, I took a scene or two from each screenplay and came up with a script of around 10 pages or less. I've been shopping these around to local film-making groups. The one based on Secretarial Wars was picked up by a group originally called Bethesda Amateur Filmmakers A to Z (now Bethesda Filmmakers and Media-makers). They used it as the basis for a fifteen-minute film called "The Investigation" in 2016, which was a lot of fun. Although my script was changed quite a bit in the process, I tell myself that would have happened in Hollywood too!
FQ: I too live in the D.C. area and have spent a fair amount of time over the years in horse country both in Northern Virginia as well as rural Maryland. Did you grow up in Maryland on a farm as Imogene's character had?
GOULD: No, I'm about the farthest thing there is from a country girl. I've lived my entire life in the suburbs, and spent my work life in DC. However, my four years at Western Maryland (now McDaniel) College in Westminster, Maryland from 1970 to 1974 gave me a brief taste of rural living. It's a beautiful spot, with all the fresh air, the Blue Ridge Mountains shimmering in the distance, and the smell of manure penetrating everything in the springtime. It serves as the inspiration for Glendary College in the novel. In fact, there is an actual town called Glendarry nearby.
I knew a handful of students who were from Westminster or nearby, and could be considered farm kids, but the majority of us came from the Baltimore and Washington areas. I made Imogene one of the country girls to emphasize her longing to escape one day to New York City, which happened to be Sara's home town.
FQ: It was a pleasure to read Sycophants and I thank you for your time. I look forward to your next title. Are you currently working on something new and if so, are you able to share?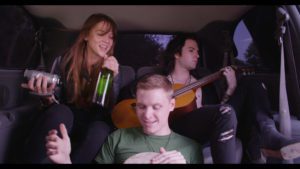 GOULD: Since Sycophants was a sequel to my 2007 novel, The Rock Star's Homecoming, I thought I'd try another sequel. This time I'm revisiting the mixture of baseball, politics, and chick-lit I attempted in Let's Play Ball (2010). This one is tentatively entitled Let's Play Two, and involves another kidnapping from a ballpark. Unfortunately, I'm not one of those firebrand writers who can churn out sequel after sequel within a matter of weeks, and make a ton of money that way. Although this new book seems to be coming much faster than Sycophants did, I still expect it will take years, not months.