Today, Feathered Quill reviewer Kimberly Trix Lee is talking with Dan E. Hendrickson, author of The Living Legend.
FQ: While reading The Living Legend, I had this assumption that you were a veteran. I'd like to know what was your inspiration when you wrote The Living Legend and all the other military action fiction?
HENDRICKSON: I was never in the military, but my father was an army private in WWII and won the bronze star and 2 purple hearts while serving in the Philippines and my stepfather was a Marine Corps Sargent Major who served in WWII, Korea, and Vietnam. so I have been around the military all my life. My inspiration for The Living Legend is that Tommy Williams is one of the main characters in my 'The Last Enemy Series' of books and I wanted to tell his back story.
FQ: Tommy Williams is an amazing character. He's principled, highly intelligent, and savvy. Is there a real life story behind his character?
HENDRICKSON: Tommy is an example of the best the military offers. I did not base his character on any one person's example. I have known people over the years that would be a Tommy Williams caliber military person. Most notably is Mr. Perry Priester, the person I dedicated the story to whom I have known for about 30 years. Like Tommy, he spent his entire life as a military officer (non-commissioned and warrant officer, helicopter pilot) and then moved onto law enforcement. It is people like him that make it easy to write a story like The Living Legend because in my heart when someone, man or women, dedicates their entire life defending and protecting us, they all are Living Legends.
FQ: Tommy's decision nearing the end of the book gave a good perspective of who he is as a person. Had this been planned from the very beginning or were there other situations that you initially thought of?
HENDRICKSON: I always know the end of my stories before I write. That helps me focus throughout the entire narrative. This is the backstory to an established character in my other writings, so a lot of his profile is already set.
FQ: I am glad that you highlighted the reality that there is still slave trading going on in some parts of the world. What made you decide on this theme?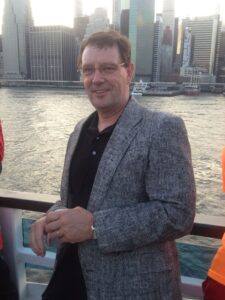 HENDRICKSON: A good deal of my writing has been exploring the themes of slavery and human trafficking, and I have just continued it here. I wrote a blog recently about the whole concept of slave trading that still happens in Islamic controlled countries. In it I show I based a lot of the reasoning for the theme in this book off the work of a civil rights activist named Dr. Marcus Garvey Jr. who wrote: "The Arab Muslim Slave Trade of Africans, The Untold Story", and spent most of his life trying to convince the western world that slave trade from Africa to the Middle East is still going on today. I thought that the idea of a legendary African slaver-fighting hero like Tumaini Aalee giving inspiration to Tommy and Makena's quest was a neat angle to base the story on. So many times, we see stories of Caucasians trying to right these wrongs, but a story of Africans and an African American military man taking on the problem and doing something about it is something I thought would be appealing.
FQ: I enjoyed reading the chapters on Tommy's SEAL Qualification Training. Could you share a bit about how you were able to set the scene so well?
HENDRICKSON: I did a bunch of research into the Navy SEAL program and its history. Much of the training I showed was from what I learned. Then it was just a matter of fitting my character with all his motivations and idiosyncrasies into that program and showing how he would do in it.
FQ: I read in your profile that you were doing investigative reporting before you ventured to fiction writing. How long did it take before you were able to figure out your passion? How did you figure out your passion?
HENDRICKSON: I actually left journalism early on after graduating from college. I was a little disappointed with the biased I was expected to write with and could not see myself conforming to it. Five years ago, I revisited my childhood ambition of becoming a writer of fiction books. My love of investigation has aided me in research of themes, facts, and interesting tidbits that help me put together my stories.
FQ: What words of advice would you give to people who have been trying to find their passion in life?
HENDRICKSON: I think most already know what their passion is, they just need to take the leap and follow it. Mostly, it is just saying to yourself that doing it is more important than not, and then do it.
FQ: I also read in your profile that you helped run a martial arts school as a senior instructor. Are we going to see a story related to martial arts sometime soon? If not, please tell us a bit about your next book plans.
HENDRICKSON: Martial Arts is something that has been a love of my life since childhood. I try to incorporate it into everything I write. Whether I ever do a story dedicated to martial arts as the dominant theme remains to be seen. I will let you know I plan to do a blog interview with my first martial arts instructor, Bill Shaw. He is the founder of the Fighting Arts Institute known as Han Foo Wa, and has taught martial arts his entire life. He is also a Hollywood Stuntman and fight choreographer. Some of his movies are Get Carter, with Sylvester Stallone, The Teenage Mutant Ninja Turtle franchise from the 1980s, and Shoot Fighter staring William Zabka "Cobra Kai's Johnny Lawrence." In the interview, I plan to discuss how to make martial arts believable and exciting in movies and writing.