Today, Feathered Quill reviewer Dianne Woodman is talking with Alan Gartenhaus, author of Balsamic Moon.
FQ: Why did you choose Hurricane Katrina making landfall in New Orleans, Louisiana, as the disastrous event in your story?
GARTENHAUS: New Orleans is a city of great texture and richness––cultural and racial diversity, renowned cuisines, unparalleled music, strategic history, and engaging residential architecture. As a former resident, an alumnus of Tulane University, and having been a staff member of the New Orleans Museum of Art, the devastation Katrina inflicted on the city and its people was neither remote nor merely a compelling curiosity. It was consequential and profoundly affecting. Writing was a way for me to process it.
FQ: Did you personally witness the damage incurred by Hurricane Katrina? If not, how did you come up with the true-to-life descriptions?
GARTENHAUS: I did see the damage and spoke with friends and former neighbors who experienced it. I returned to New Orleans several times, once shortly after the city was declared "dry," while troops were still stationed there, downed trees and debris filled the streets, and much of the city's electricity had not been restored. I got to see the devastation, and how very extensive it was, first-hand.
FQ: The two main characters, Doreen and Richard, come from diverse backgrounds and life experiences. Are they based on people you know, or did you create Doreen and Richard from your imagination?
GARTENHAUS: Doreen and Richard are imaginary; however, I drew inspiration from people I'd known. Both characters took on lives of their own as soon as the writing process began.
FQ: Do you have first-hand knowledge of the physical and emotional impact endured by people who elected to stay behind instead of following evacuation orders? If not, how did you come up with the characters' backstories and personality traits?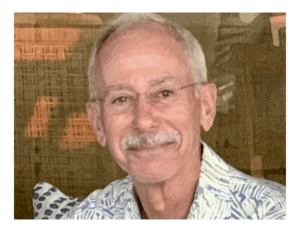 GARTENHAUS: Days, and even hours, before Katrina made landfall, I was on the phone urging friends to leave. A very close friend who remained did not survive the storm and the flooding.
Although the characters and their backstories are fictitious, I interviewed a variety of folks who remained in the city when the storm and flooding hit and learned of their experiences, both physical and emotional. I also read the local newspaper's excellent coverage of the storm's approach and its aftermath.
FQ: How much of the story is a blending of the reality of events with your imagination?
GARTENHAUS: Nearly all of it. The events surrounding the storm and flooding are real and known. My imagination helped me understand and empathize with how these two characters might have experienced and felt about it.
FQ: Your use of sensory language brings the story to life for readers. Where did you get your inspiration for your creative use of sensory details?
GARTENHAUS: Thank you. I'm flattered that you thought so. Much of my professional career before writing fiction was spent working in museum education departments, where I developed programs challenging visitors to discover and learn using their five senses and, often, their intuition and imaginations. I wrote two non-fiction books, Minds in Motion and Questioning Art, which demonstrate ways to gather sensory information and bring inanimate objects "to life."
FQ: Did you conduct research in the writing of this story, and if so, what methods did you use?
GARTENHAUS: I conducted personal interviews, dove into the archives of The Times-Picayune (the New Orleans local newspaper), and watched Spike Lee's documentary, When the Levees Broke, innumerable times.
FQ: Who is the target audience for this heart-stopping story that shows the devastating effects a massive hurricane can have on the environment, personal property, and the physical and mental health of people?
GARTENHAUS: Hopefully, everyone is the target audience. Reaching across divides and caring about others should engage us all. Certainly, it is a lesson that disasters force us to learn repeatedly. Whether we're taught by hurricanes, wars, fires, or earthquakes, surviving the unfathomable is compelling, and requires courage, determination, and compassion, behaviors worthy of reading about and exploring.
FQ: The title, Balsamic Moon, definitely catches a person's attention. Would you explain to our readers where this title came from?
GARTENHAUS: My characters spent nights trapped in an attic by floodwaters. I was trying to determine how light or dark the night would be in a city that had completely lost power and read in an astrological reference that it corresponded to the appearance of a balsamic moon. When I read of a balsamic moon's ominous portend, it made the hair on the back of my neck stand up.
FQ: Do you plan on writing more books about any catastrophic events and the subsequent repercussions or might your next project be something completely different?
GARTENHAUS: My next novel is different. I have written and had published a variety of short stories with various plots, a few of which can be found on my webpage (alangartenhaus.com). Although most of my writing focuses on human interaction and emotional connections, I'm not a genre writer, such as authors who pen mysteries or spy novels.